Share in the bounty by letting us be your link to the California Foodshed
• Wholesale •
Marin Sun Farms directly distributes meat and eggs to wholesale customers in the Bay Area and Los Angeles. Our sales team is here to support your goals and bring further value to your efforts and customers. We look forward to meeting you!

Our butcher shops are stocked with the best grass fed, pasture raised, California local meats available. Our skilled butchers utilize every part of the animal from nose to tail as part of our whole animal butchery program. Special orders are available.
Oakland
Butcher Shop
Rockridge Market Hall
5655 College Ave., Oakland, CA 94618
510-601-8997
Hours
Monday–Friday: 9am–8pm
Saturday: 9am–7pm
Sunday: 9am–7pm
Point Reyes
Butcher Shop & Restaurant
10905 Shoreline Highway 1
Point Reyes Station, CA 94956
415-663-1800
Hours
Restaurant, Mon: 11:30am–3pm, 5pm-6:30pm
Restaurant, Fri-Sun: 11:30am–3:30pm, 5:30pm-9:00pm
Butcher Shop stays open Fri-Mon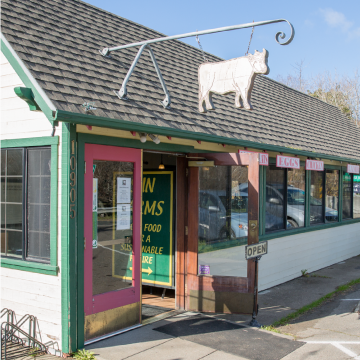 Point Reyes Station
Restaurant
Our Point Reyes location is home. Visiting us here is a great way to have a hands on experience with Marin Sun Farms. You'll love our seasonal specials, cooked to order steaks, burgers, fries and vegetables. Our drink menu features a variety of local wines and beer.
Animal Share
PURCHASE A WHOLE, HALF, OR QUARTER ANIMAL

Buying a whole animal is one of the best ways to have a direct connection to our foodshed.
Purchase a whole, half or quarter animal to be butchered just for you.
To Learn More or Place an Order: